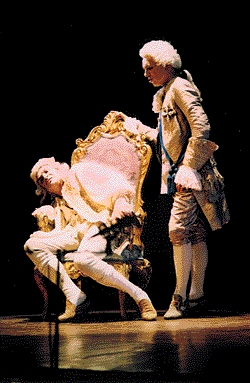 in the title-role of Matteo d'Amico's Farinelli, La Voce Perduta with Roberto Abbondanza as Philip V, the deranged King of Spain
Nicholas Clapton made his professional debut at the Wigmore Hall in 1984. In the following year he was a double prize-winner at the Concurso Francisco Viñas in Barcelona, and in 1987 won the English Song Award. He formerly studied with David Mason, and is now a pupil of Diane Forlano.
Performing an enormously wide variety of music, he is equally at home in contemporary opera, the heroic castrato repertoire of the eighteenth century, and
Romantic song in six languages (in partnership with the renowned pianist Jennifer Partridge). In the course of his career he has performed in opera houses and concert halls from Santiago to Singapore, given (to date) twenty-six world premières (including six operas, the most recent being Nicola Lefanu's Light Passing, commissioned by BBC Radio 3 and first performed at the National Early Music Centre, York in October 2004), and made several recordings: of solo cantatas by Handel's contemporaries Benedetto Marcello and Nicola Porpora, of Duruflé's Requiem, of Water Parted and The Triumph of Beauty and Deceit, works written for him by leading Irish composer Gerald Barry, and most recently of LeFanu's Canción de la Luna.
His versatility and adventurous approach have led to such unusual performance situations as
singing Purcell in that composer's tercentenary year in a former Palace of Culture in Siberia, playing three different reincarnations of the great castrato Farinelli, and accompanying himself on the castanets in Simon Holt's Six Caprices. In opera he has appeared as a post-modernist hurdy-gurdy player in a purple suit (Magister Aggrojunk in Benedict Mason's football opera Playing Away for Opera North), the Moon (in LeFanu's Blood Wedding), a cockerel (in Hindemith's Mörder, Hoffnung der Frauen) and a couple of old hags (a Brechtian Nutrice in Monteverdi's L'Incoronazione di Poppea at the Megaron in Athens, and the Sorceress in Purcell's Dido and Aeneas in Baden-Baden, Vienna and Seville), as well as the more usual kings, princes and courtiers of the
Handelian canon. In addition to all the major works of Bach and Handel, his concert repertoire includes Wagner's Wesendonck Lieder, Elgar's Sea Pictures, Vaughan Williams' Five Mystical Songs and the
Verdi Requiem (to enquire about booking Nicholas Clapton as a soloist ). Since 2000 he has given numerous performances throughout Britain with the Locrian Ensemble, particularly their Handel by Candlelight programme, and The Angel of Rome, a one-man show about the last castrato, Alessandro Moreschi, specially written for him by the group's artistic director, Justin Pearson.
Nicholas Clapton is also greatly in demand as a teacher. He taught for several years at Trinity College of Music, London, and is now a professor of Singing at the Royal Academy of Music, and, having been awarded a Doctorate in Liberal Arts summa cum laude by the Liszt Ferenc Music University, Budapest in June 2005, is now a Visiting Professor there. He gives regular master-classes at the Dartington International Summer School, and has also taught in Prague, Belgrade and the Netherlands. In recent years he has given master-classes for the therapists of Annie Mawson's Sunbeams Music Trust.
His many talks and lecture recitals to societies and music clubs about the counter-tenor voice, the castrati, and other topics relating to singing have proved enormously popular (to enquire about booking Nicholas Clapton for your music club or society ). His biography of Moreschi, the Last Castrato (Haus Publications, Life and Times series) was published in November 2004, and was chosen by the Tablet magazine as one of its Books of the Year for 2005, while its enlarged second edition, Moreschi and the Voice of the Castrato, was chosen as Book of the Month by Classic FM for January 2009; it has also been translated into French and Italian. His second book, Budapest, City of Music, was published on 1 March 2009, and his future writing plans include the first English-language biography of the great castrato Farinelli.
When not performing and teaching, Nicholas Clapton is a keen (some would say manic) gardener, an avid reader (particularly of nineteenth-century literature), and an inveterate haunter of junk-shops.
Audio Samples
If you have a PC equipped for sound, click on the links labelled "Listen" in the table below to hear some examples of Nicholas Clapton's singing. It may take a few moments for the tracks to transfer onto your computer, so be patient. The Windows Media versions take a bit less time to arrive than the MP3 Audio files, and are of comparable quality, but with a brighter sound.
Title
MP3 Audio
1

'Tis Nature's Voice

Purcell: "Ode on St Cecilia's Day" (1692)


Listen
Listen
2

Furibondo spira il vento

Handel: "Partenope"


Listen
Listen
3
She never told her love
Haydn
Listen
Listen
4
Az ágyam hívogat
Bartók (Op16, no3)
Listen
Listen
5

I know a bank

Britten: "A Midsummer Night's Dream"

Listen
Listen
6
Widmung
Schumann
Listen
Listen
7
Les Berceaux

Fauré

Listen
Listen
8

Liber scriptus

Verdi: "Requiem"

Listen
Listen
If you are having trouble hearing these samples, try the Windows Media Player. You can download the latest version directly from Microsoft at no cost.
1,2 with Zorica Ćetković (harpsichord), live in the Guarnerius Hall, Belgrade December 2001
3,4,6 with László Dobszay (piano), live in the Great Hall of the Zeneakadémia, Budapest June 2005
5,7 with Jennifer Partridge (piano), studio recording
8 with the Downside Schola Cantorum, the Amadeus Singers & Friends and the Downside Festival Orchestra, cond. Christopher Tambling, live in Downside Abbey June 2003
Reviews
'... Nicholas Clapton ... a voice ... gracefully mature with a controlled, easy vibrato which adapts easily to the stylistic needs of different centuries ... one-to-one engagement with the audience ... was skilfully achieved ...'
The Independent
'... Clapton's voice is a powerful and unforced instrument ... his technique is impressively fluent ... pianissimo notes of utter perfection ...'
The Times
'... Nicholas Clapton ... an interpretation at once precise, consummately expressive and communicative ...'
El País (Madrid)
'... Nicholas Clapton, supreme, extraordinary ... an amazing assumption of the role of the Sorceress [in Purcell's "Dido and Aeneas"] perverse and evil ...'
ABC (Seville)
'... Nicholas Clapton ... great vocal virtuosity and vivid dramatic presence ...'
Opera
'... In Duruflé's "Pie Jesu", Nicholas Clapton gives an outstanding performance ...'
Gramophone
'... Nicholas Clapton ... his is the voice of Farinelli, a voice most beautiful in its range and musicality. Perhaps even finer is Clapton's ability to create a personality through singing alone ...'
Il Mattino (Naples)
'... bravura beyond description ...'
Avvenire (Rome)
'... Nicholas Clapton took the lion's part as Tigrane [in Handel's "Radamisto"]: extravagant, languorous, provocative in glance and gesture while vocalising to the utmost, this strangely ambiguous voice was the most baroque of the production.'
Le Provençal (Marseille)
'... the angelically devilish presence of the stunning English sopranista Nicholas Clapton ...'
L'Unità